How To Eat Your Way Through Copenhagen
It's no wonder Denmark is the happiest country in the world. If for the rest of my life, every meal was like the food my friend Jessie and I had in Copenhagen, I'd forever be happy, too.
But it's not just their recipes that make everything so delicious. Walk down any street and you'll find restaurants with farm-to-table menus, organic meats and produce, and vegetarian/vegan options. In fact, a 2017 report by Switzerland's Research Institute of Organic Agriculture found that the Danes purchase more organic food than any other country in the world.
You also can't beat the quality of their food. I think I had bread, butter and dessert at every meal and while gluten usually gives me a stomach ache and causes me to breakout in hives, I honestly never felt better. My only regret is that I didn't get to have a pølse -- their street hotdogs.
If you're heading to Copenhagen, be sure to check out some of the spots below and please try a pølse for me!
Our first Danish coffee experience was at the Coffee Collective at Torvehallerne. Head over around 7:30am, grab a pastry from one of the small bakeries on your way, and have your cappuccino while watching herds of Danes ride to work on their bicycles - our favorite morning ritual.
Seriously though, the coffee was so good that I had a cup from Torvehallerne every morning and even brought a bag of their Akmel Nuri coffee home with me. Now if I can only figure out how to ship more to NYC
Is there anything more Danish than rye bread and soft boiled eggs? How about being served in a café that shares a space with a store selling artwork, furniture, and home goods. Atelier September is the perfect spot for a casual breakfast. Add a side of grapefruit with basil for a delicious treat.
We were incredibly lucky and had beautiful weather in CPH. We found a restaurant on the Nyhavn Canal with a terrace at the waterfront. It seemed like everyone was eating the same meal - the Plaice & chips, so of course, that's what we had, with a side of Carlsberg.
Dinner at Höst is one that I'll remember forever. The contemporary Nordic restaurant has a rotating three or five course seasonal menu plus wine parings served inside a small, cozy dining room. Be prepared to spend at least two and a half hours eating and drinking. Your tastebuds will cry tears of joy and so will your wallet! The three course pre-fixe (actually seven courses when you include the nightly specialties sent out by the chef) is only 350 dkk.
Course 1: Scallops with cucumber and a savory ice cream
Course 2: Baked Witch flounder with peas, shrimp and roasted chicken skin
Course 3: Potato foam with potato chips and roe
Course 4: Grilled pork neck from Grambogaard with corn, cherries, and pickled Wood ear
Course 5: Danish Dippin' Dots (too many glasses of wine at that point to remember the real name)
Course 6: Rosehip ice cream with red and green strawberries
Course 7: Marzipan snails with marshmallow rocks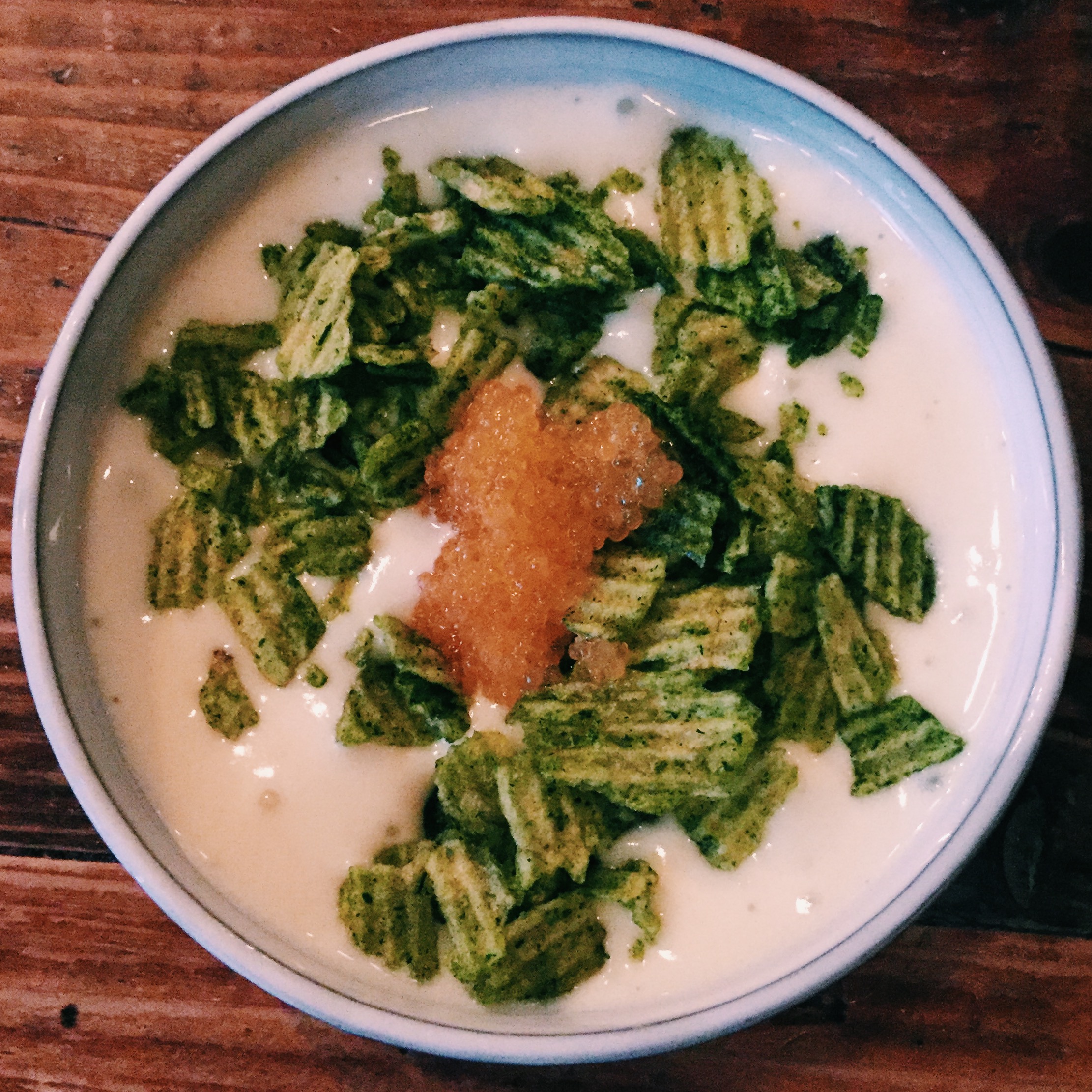 Some people say you shouldn't associate happiness with food. I say those people definitely haven't tried the almond croissant from Democratic Coffee because it is pure joy.
If you find yourself hungover after seven courses of food, five glasses of wine and two cocktails, then Copenhagen Street Food is the place for you. It's like Chelsea Market and Smorgasburg had a Danish baby. Now, I know what you're thinking...did you really go all the way to Denmark to eat a pulled pork sandwich? Yes, yes I did. I grew up in a town where the best bbq is sold only on holidays (Memorial Day, July 4th, & Labor Day for the past 50 years) by a man named Pete, so trust me when I say I know good pulled pork. If you would have told me Oink Oink CPH BBQ was made in South Carolina, I would have believed you. The only giveaway was that the pickles weren't Vlasic (because it's still Denmark, so of course they're house made) and the sauce wasn't mustard based. Not pictured: duck fat fries with creme fraiche.
To be honest, there could be a blizzard outside and I would still eat ice cream. My first New York apartment was around the corner from Big Gay Ice Cream and I remember running in the snow with my sister to get a cone of their amazing soft-serve with rainbow sprinkles in the middle of December. So of course, when it's 75 degrees in Copenhagen, and I'm on the verge of getting a sunburn, ice cream is going to happen.
Vaffelbageren is right on the Nyhavn Canal - close to the boat tours, Copenhagen Street Foods, and walking distance to The Little Mermaid. If it's nice out, every other person you pass is going to be carrying a waffle cone, so I dare you to not stop and get one for yourself.
My favorite part of our meal at Baest wasn't the farm-to-table ingredients or the surprisingly delicious flavor of the pickled mussels. It was the fact that when I booked the table, I was told we had it for two and a half hours. Eating in America, you typically get your check the second your meal hits the table and you can barely take your final bite before the waiter is clearing your plate.
Aperol Sprtiz - Pickled Danish Mussels - BÆST 'Nduja with Crostini - Summer Salad, Parmesan, Cured Egg Yolk and Garum - Tomato, BÆST mozzarella and Garden Basil Pizza
I knew I couldn't leave Copenhagen without trying smørrebrød, the traditional Danish open-faced sandwich. Mathias, our Airbnb host/Danish chef, recommended that we go to a restaurant in the basement of the Worker's Museum. The cellar and menu look like you've stepped back into 1982 and is the hidden gem of CHP. While I can't say the pickled herring with beets was my favorite dish (no matter how pretty in pink it was), the hot smoked-salmon with creme fraiche was probably one of my favorite - and most unexpectedly delicious bites of the entire trip.
Yes, we did eat pizza twice in Denmark. No, we didn't regret it. It was our last night in Copenhagen, we didn't have any dinner reservations, and all week we had walked by a small pizzeria run by an Italian family that always had a long line of twenty to thirty-something Danes out the door. If you're feeling really adventurous, you can play our little game of menu roulette. The rules: look through a Danish menu and try to find the pizza you saw someone eating. Do not ask anyone to translate the menu for you.
Let's just say, we didn't end up with the yellow squash pizza we were envying while waiting in line. Instead, we learned that rejer is not a type of cheese, it's shrimp.
Calabrisella pizza: mozzarella, squash, rejer, fåreost og parmasan
I have been dreaming about Danish food since I left Copenhagen and I can't wait to go back. Anyone have any recommendations for my next trip?